Genestra Brands HMF Children's Probiotic (Chewable)
For ages 4 yrs +
A great high grade children's probiotic!
30 chewable tablet packet
For full ingredients and information list, see below.
These are practitioner grade vitamins.
If you would like more direct support with this item, please contact Jessica Weigum, CHN at 4038756358
*These products are not in any way a recommendation or suggestion to fight or protect against COVID-19, nor is this sale a recommendation for same. Please follow public health guidelines wtih regards to COVID 19. *
Expected out for end of October
Also available: Vitamin C, Immunity for kids, Vitamin D drops, Zinc Lozenges, and Vita-kids Vitamins (see other products this week!)
Genestra HMF Child is a moderate level probiotic ideal for children. Features: 
Contributes to a natural healthy gut flora
12.5 billion CFU per dose
Chewable tablet with natural blackcurrant flavour
Genestra HMF probiotics (despite having keep refrigerated on box) maintain a high degree of stability at 25C for up to 20 days.
HMF Child probiotic formula is a moderate level probiotic combination providing Lactobacillus acidophilus, Bifidobacterium bifidum, Lactobacillus paracasei, Lactobacillus salivarius and Bifidobacterium animalis subsp. lactis, which help support a healthy gut flora in children.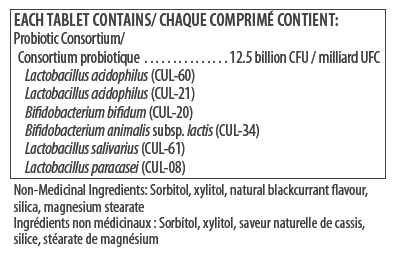 These are practitioner only brand vitamins. This is not an MLM nor can you purchase these products yourself outside of a practitioner. Pure Encapsulation/Douglas Labs/Genestra is a high quality, government regulated supplement company that prides itself on offering products free of gluten/sugar/sodium/yeast. This does not in any way replace doctors orders/recommendations nor is it to be considered a recommendation. It is not a replacement for healthy foods and water. Offered by Jessica Weigum, CHN Holistic Nutritional Consultant.
More Information

| | |
| --- | --- |
| Product Condition | New |